Preparing for your Family Portrait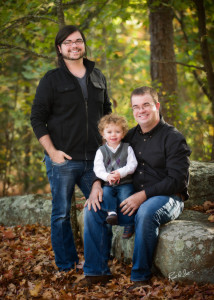 Don't stress. Take care of all the details early and be stress free. A Family Portrait Session is a great family time outing. Make the most of it by being calm and collected.
When……
Decide on an appointment that works with all family members schedule. Our most popular time for family portraits is Fall. Hunting season is around the same time, the prime color moves in, so if you have a hunter in the family, work this out beforehand. We schedule weekends through the fall and spring season. Call or contact us early!
Where……

Decide where you would like your portrait. Outdoors, in studio, at your home. Think about a location that best describes your family, on the golf course, on your boat, on the family farm, with your horses or a place your family enjoys spending time. Look to the photographer for suggestions if you are not sure, they will have locations they like to use. Once you have selected the location of your portrait decide on the clothing style and colors that will best suit that location.
Clothing….
Don't wait until the last minute to decide on your outfits. Look to magazines and clothing websites for inspiration. Once you have selected your clothing email us a pic of outfits and accessories displayed together, so we can get an overall feel for your session. Some of the helpful suggestions we have learned through the years. Select four colors that compliment each other. You can have one outfit as the wild card (pattern) but only one. Work from the colors in the wild card outfit. Dress everyone in dark or light. Don't try to match all outfits but keep the same tones going. Keep your shoes in key with the clothing. Jewel tones are great for fall color portraits. Accessories such as belts, scarves, hair accessories and jewelry can add a splash of color in your portrait without overpowering. Pets are a part of the family and add a nice touch to your portrait.
Don't worry if you planned on loosing a few pounds prior to your session, and it didn't happen. We offer Digital Body Sculpting that can take inches off a waistline or other areas that you may feel a little insecure about.
On Appointment Day….
Relax. Together we are going to capture portraits or album collections of your loved ones for you to proudly display in your home.